THE MEGAWASH MOBILE APP IS LIVE
MegaWash has developed a mobile app to enhance our customers' wash experience. The app is available on the Apple App Store and the Google Play Store. It is simple and intuitive to use and offers great value to both RV wash and car wash customers.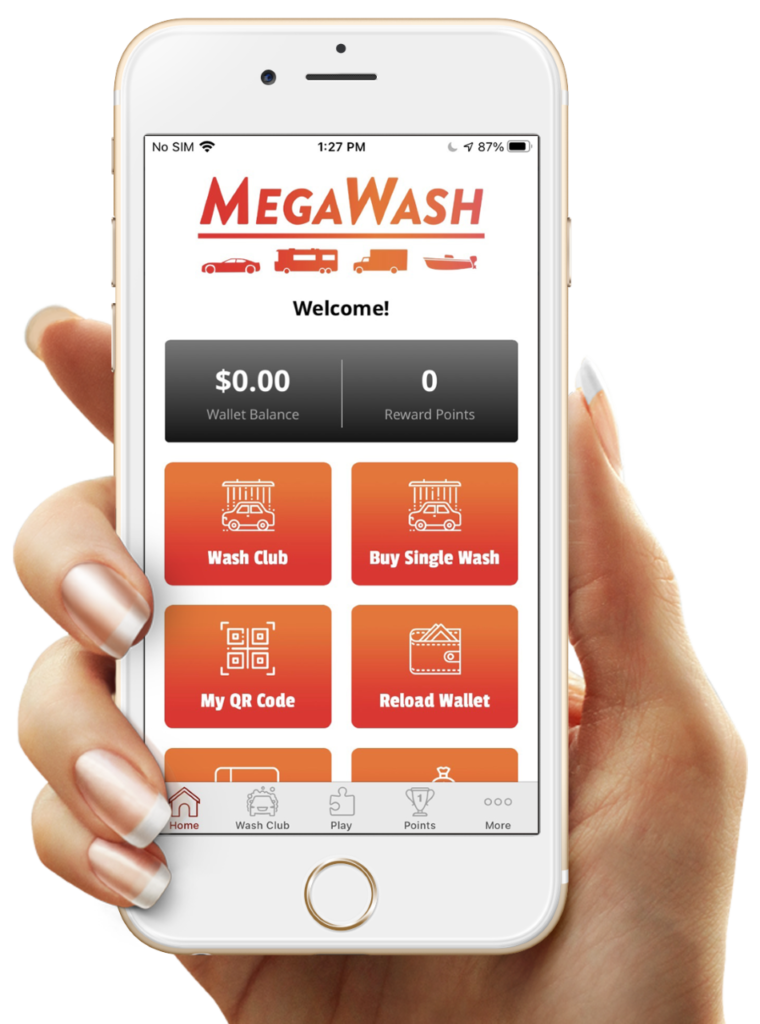 APP FEATURES
Monthly Memberships
One-time purchases for both the RV wash and car wash
Wallet reloading with bonus cash at different tiers
Referral bonuses added to your wallet
Fleet account tracking and monthly billing
A cool game!
Monthly Memberships
Joining & Perks
To join our monthly membership program, just create an account, provide a payment option, tell us what cars you have, and come to the wash! For $29.95 per month, MegaWash offers you 5 Extreme Clean washes, worth a total of $100.00. We also offer perks that no other express car wash combines:
You can wash any car you own with your membership! Most washes require a separate membership per vehicle, but we give you flexibility. Our memberships are PER PERSON, not per vehicle.
24/7 access to the automatic wash. Even when our staff aren't there to greet you and give you a pre-wash soft brush scrub, you can still come and wash with us.
Discounts on our premium Polish & Polymer Sealant. Members get a big discount every time they upgrade to our Polish & Sealant package to shine up your car and protect your paint.
Free vacuums with every wash.
How it works
You will load your wash by opening the app, tapping "Wash Club," and scanning the QR code we have posted at the wash. You must allow location services to confirm you are physically present at the wash and not just trying to cause havoc by scanning the same QR code from your couch. If you scan this when the car wash bay is completely clear of another car, your wash will load and everything will be great. If you scan it while another car is already in the wash, it won't load a wash – you have to wait until the coast is clear! Keep your car centered in the bay and enjoy a fast, excellent quality touchless wash. If our attendants are present when you visit, we offer a pre-wash soft-brush scrub, but this is optional if you prefer touchless all the way.
On days you are feeling like giving your vehicle the full experience, you can use your wallet balance to add enhancements to your wash, like a hot water blast, extra triple foam, and extra wheel blast and high pressure spray.
One-Time Purchases
The MegaWash app also offers the option of making one-time purchases with your wallet balance and/or credit card. This can be done for both the RV wash and the automatic car wash. On the automatic side, just come to the wash, pull up your app, purchase your wash with your wallet balance or with your credit card on file, or a combination of the two, and follow the app's prompts to scan the QR code we have posted on site.
For the RV wash, the process is the same except you can only redeem your washes during our attendant hours, so bring your phone and show your personal QR code to our attendants. They will scan it and redeem your wash.
Wallet Balance Bonuses
You increase your wallet balance in one of two ways. First, you can add to your balance with the credit card on file. This has its advantages, because at different tiers you get bigger and bigger cash bonuses with your purchase. For instance, add $50 and you get an extra $5. Add $100, and you end up with $115 in your wallet. Add $200 and get an extra $50! Loyal app users end up with great deals. Secondly, you get referral bonuses every time you refer someone to the app and they make a purchase. You can really rack up a wallet balance that way.